Cosmetology Schools In Chicago
Success Barber School LLC – This is only one of the cosmetology schools in Chicago that is available in Illinois. Their dual faceted teaching approach consisting of classroom and practical training part of the day and the rest is an open clinic where you will get hands-on experience practicing the newly learned techniques on real people. All of this takes place in their big barber shop often called their full service hair salon which is part of their beauty school. This style of teaching helps students to realize their creative strengths and to sharpen their skills in months, not years. I think it's a bonus when schools provide both full time and part time programs with day and evening schedule's available. It's good to know of barber schools Chicago offers that also provide financial assistance to candidates who qualify.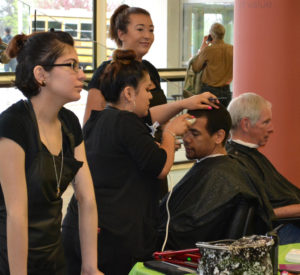 Steven Papageorge Hair Academy – Here is another one of the top cosmetology schools in Chicago. They were winner of America's Beauty Show 2011 rising start photo contest. This school provides a continuous enrollment that starts the 2nd Tuesday of every month. This way there is limited waiting to get started with your dream occupation. Full time classes are offered or you have a choice of either morning or evening part time classes. Apart from that, this is another one that also provide extensive hands-on training. SPHA's courses contain the following key highlights – Hair cutting, hair designing, hair chemistry, Hair coloring, Relaxers, Permanent Waves, Product Knowledge, Nail Technology, Aesthetics and Self Marketing. Their NACCAS latest report says that Steven Papageorge Hair Academy has a job placement rate of 86.69 which is really good for any school.
Tricoci University of Beauty Culture – This was named the best world academy in 2010. Of course this does not surprise you as this University was set up by the internationally acclaimed Mario Tricoci, Beauty Industry Leader. They have both full time and part time courses in Aesthetics and Cosmetology. They also provide teacher training courses.
Pivot Point Academy – This renowned academy has its branches in Evanston, Bloomingdale and Chicago. It provides all of it students with free career placement services throughout their lives. It also encourages its students to participate in various workshops. This school seems to be more toward hair design than teaching how to become a makeup artist.
Niles School of Cosmetology – This school in Niles possesses an accreditation by NACCAS or National Accrediting Commission of Cosmetology Arts and Sciences. If you want to choose any of the following options such as Salon owner, Makeup Artist, School Owner, Industry Representative etc. as your career path then you should definitely join this school.
Regency Beauty Institute – Located in Darien, this institute also provides full and part time courses. It's students are often rewarded via the (STAR) Student Training and Rewards program.
Empire Beauty School – This leading school presents the following key features – A growing career, good income potential, job security, flexible hours etc. Their hands on training in fields such as skin, hair and nails make the students ready for any sort of job challenges.
Therefore, if you have dreams of starting a career in cosmetology you should consider kicking it off with a good cosmetologist course from one of these reputed schools in Chicago that offer Aesthetics and teach how to become a makeup artist. To succeed in this career choice, one does not necessarily need to be extremely imaginative and creative. You just need to have a passion for beauty. These schools help you to understand the science behind the problems of skin and hair that customers usually face. The right mixture of science and cosmetology gives you the ability to help people look their best always. Cosmetologists also have great employment opportunity in the entertainment industry such as modeling, movies, television channels studios. These schools in Chicago not only prepare you for all sorts of events that may occur in your personal life, they will also guide you throughout your career.
If you are leaning more towards makeup you can click here to learn of a few Makeup Artist Schools in US and Canada.