Tips for Boosting Makeup Artist Salary
Before we address methods for boosting salary, it would help to understand what a professional like this currently makes. Keep in mind that in both situations, there are specific factors that would determine the salary range in which this professional would land. Understanding what these factors are is one way a person could figure out ways of earning even more. The primary factors that impact earning potential include the following.
Level of college education
Educational institution where courses were taken
Type and amount of specialized training
Exact makeup artist career field
Years of prior experience
Type of job working
Geographic location
Employee of a company or freelance professional
Company employed by
Today, the average makeup artist annual salary ranges from $20,000 to $75,000 and on up per year. In addition to a set income, there is potential to make additional income in the form of bonuses, vacation time, sick leave, retirement plans, health and life insurance, and so on. While these opportunities exist for all makeup artists, it is common to see someone just getting started looking for ways to increase their pay.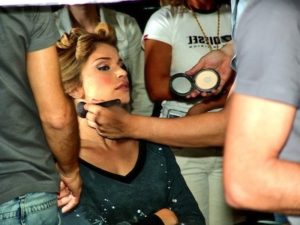 Now, the other side to this is that there are some people who choose to become a professional makeup artist, regardless of type, find the work so enjoying, exciting, and rewarding that starting out with a low salary is considered a temporary sacrifice. One of the many positive aspects of this career is that advancement opportunities do exist, so with hard work, dedication, and honing skills, an individual could advance quickly if desired.
Rather than being happy with the average wage, there are some things a person could do to bring income level up. With a little creativity and know-how, someone could enjoy a more lucrative career. The following are a few suggestions on how this could be achieved.
Education Can Help Boost Salary
Although there are many makeup artist jobs that only require a person to complete some college coursework, the higher education a person has the higher your makeup artist salary potential. This education doesn't always mean college, although it could be very helpful. Education comes from continuously learning all aspects of your profession. Start with your most desired area and learn it well. Then move on to other areas in cosmetology. If you are looking for college or a trade school, there are many scholarships and grants available, an individual could earn a higher degree but without going into serious debt.
With education, it is important to look at the long-term picture. Not only could higher education boost makeup artist salary when first getting started but it would also prove beneficial for faster advancements, which in turn means more money.
Broaden Studies
As part of the educational journey to work as a makeup artist, emphasis would be required based on the specific field. However, to improve odds of making a greater salary, a person could expand studies so not only would courses for makeup and costume design be taken but other areas of study specific to this career should be considered.
The Right Employer
If a person plans to work for a company on a freelance basis, it would pay off to work for the most reputable company needing this type of work. Most people have their sights set on Hollywood, which is considered the prize for makeup artists but going from college to MGM is unrealistic.
There is nothing wrong with setting goals, but to achieve them an individual should choose employers carefully. If planned out correctly, a person could begin a career as a makeup artist working for a solid company that has a great reputation and excellent connections. The key would be working for companies that serve as stepping stones to the ultimate goal.
Hard Work and Dedication Key to Boosting Makeup Artist Salary
Everyone has heard that hard work and dedication pay off, which is true. If a person were to give 100% to each position held, no matter how menial the job responsibilities are, potential for higher salary, nice bonuses, and even advancements would come quicker. In all industries, especially this one, executives take note of people who strive for success. In return for giving it all for the company and the job itself, rewards come.
Extra Work
As long as a makeup artist does not have a non-compete clause in a contract with an employer, extra work could be picked up as a freelance professional. Although additional salary might be somewhat limited when first getting started, with time as a client base begins to build and the person gains more and more experience, your potential to make more money would increase.
In the above video, Brianna Fox tells her story of how she became a makeup artist. Please take some time to hear what she has to say on how to boost salary. She also answers some questions at the end of the video.